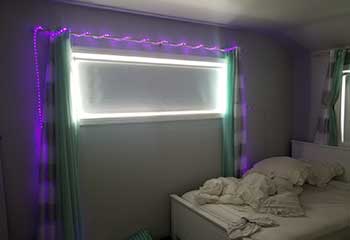 Blackout Curtains
Customer Issue: Mr. Farlen's bedroom window needed some new blackout curtains after a household accident ruined his last set. We installed the last pair, so our team knew what to do.
Our Solution: We made a near-perfect replica of the customer's previous blackout curtains, with 4x6 foot dimensions each, pleated lines every six inches and a folded hem. The only difference was the color. Mr. Farlen redecorated in a different color scheme after the fire, so this time we used dark purple blackout fabric instead of autumn red.
Kendrick Farlen
- Newport Beach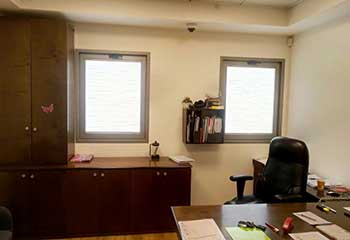 Cellular Shades
Customer Issue: Mr. Bowers found he got distracted often by his kids and pets outside while trying to work in his home office and hoped we could help.
Our Solution: We made several recommendations to Mr. Bowers, and he decided that cellular shades would be the most helpful. Not only will they visually block his view of the backyard, but the thick quality has noise-canceling properties as well to make things quieter. This way, he can focus more easily on his work.
Kurt Bowers
- Balboa Peninsula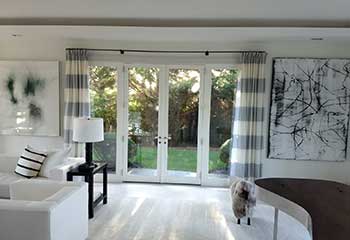 Motorized Blinds for a French Door
Customer Issue: Mr. Davidson was tired of fiddling with cords to try to make blinds rest evenly across all the windows at the front of his home, so he contacted us for a consultation.
Our Solution: With motorization, the customer could simply use a remote or his smartphone to adjust all the blinds at once, easily keeping them even. He felt this would be perfect, and the blinds were custom made to complement the door and installed.
Lionel Davidson
- Costa Mesa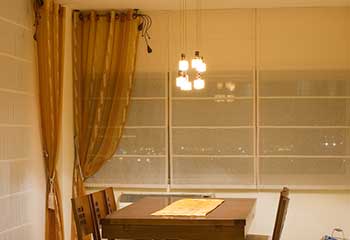 Drapery
Customer Issue: Wanted drapery that could also be used as upholstery for the chairs around the elegant new furniture.
Our Solution: After examining the fabric options in our extensive collection, the customer chose a stylish elegant material that would be perfect for his requirement. Our team installed the custom-made ripple-fold drapes, with double turned hems, mitered corners, liners, and weights and provided the customer with extra fabric for upholstering the chairs.
Jonathan Brian
- Santa Ana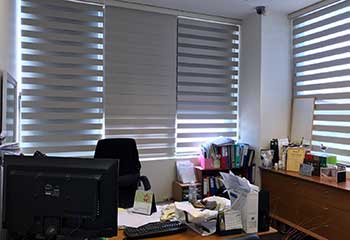 Aluminum Blinds
Customer Issue: The customer's office building needed new, simple blinds to reduce glare for his employees.
Our Solution: Our customer was in need of blinds that wouldn't be distracting to employees, were affordable, and that would effectively keep out glare as well as help regulate the temperature to avoid energy waste. Our professionals felt aluminum blinds met all of these needs easily.
Andy Arnold
- Newport Beach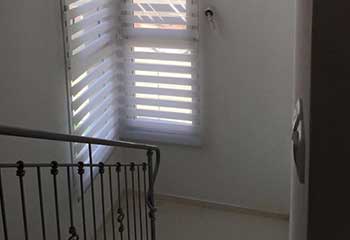 Motorized Shades
Customer Issue: The customer was looking for shades for high up window coverage.
Our Solution: This customer had windows that couldn't be reached for manual shades and our company had the perfect solution. Motorized shades would allow her to be able to cover them as needed by letting her use a remote control instead of strings.
Freda Maldonado
- Balboa Peninsula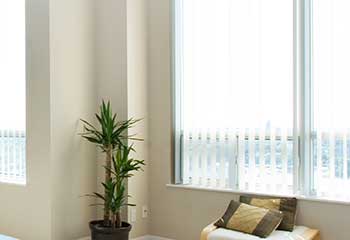 Vertical Blinds
Customer Issue: The customer needed new blinds for his downstairs rooms, such as the living room.
Our Solution: Due to most of the windows in the living room, kitchen, dining room, and others being large, our professionals suggested vertical blinds. They look far less busy with lines than horizontal blinds for big windows, and help elongate the room.
Jeff Ball
- Newport Beach