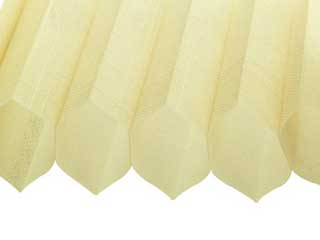 Also known as honeycomb shades, these window coverings provide full protection from sunlight, are opaque from the street outside, and do an excellent job at keeping heat from getting into or out of the building.
The Honeycomb Structure
Cellular shades are made of many hollow, synthetic tubes hanging in a curtain by a pair of tapes. The tubing comes in a range of sizes, not to mention materials, which affects the shades' flexibility and insulating properties. The simplest cellular shades consist of a single sheet of tubes, while others have two or even three layers stuck back to back. The mass of circular openings going up and down the sides of a two or three layered model is where the term "honeycomb shade" comes from.
Thermodynamics And Your Electricity Bills
The air pockets inside of the hollow tubes serve as insulation. In order to get in or out of your house, heat will need to be conducted through multiple layers of plastic and convect across the air inside each tube. Windowpanes are some of the biggest heat conductors in a building, with up to a third of unwanted warming and cooling happening through them. With heat-blocking cellular shades, your building will stay cooler when the outside heats up and warmer when it cools down, minimizing the workload for your electric air conditioning and heating units.
As Eclectic As Any
Cellular shades can be made to roll up around a spindle, collapse and flatten their tubes together into a compressed stack. Otherwise, in the case of single-layered cellular screens, or honeycomb made from finer tubes, they can be pulled into a tight zigzag of pleated curves just like a classic Roman shade. Depending on the closing structure you choose, you can also have the tubing covered on one or both sides with a thin, decorative fabric layer that lets you have whatever aesthetic you please.
Give Us A Call
If you think cellular shades are right for you, let us know and our team will be over pronto. Call today!