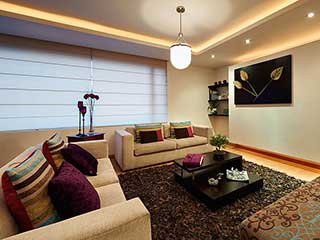 Roman shades are an excellent addition to just about any room, from the kitchen to the bedroom. They provide the functionality of controlling natural light levels and also protect your furniture from harmful UV rays. They do all of this while also adding a sense of style and soft grace to the interior decor. There are a few excellent inspirations for making great use of these affordable shades that will complement the style of any part of your home. Check out the following tips to see what our designers recommend.
Living Room and Lounge
Window coverings can create an atmosphere of comfort and warmth, which is a theme often best suited to living rooms and lounges. The beauty of Roman shades is that you can achieve high levels of style without going over your budget. You can have them work seamlessly in the area, and contribute to the interior fashion significantly. Because pleated and flat Roman shades stow away neatly by folding onto themselves in their unique way, they make for an excellent choice for those who want low profile window treatments that can create a neutral and cozy environment with a simple tug.
Excellent Shades For The Kitchen
Sheer Roman shades made of light fabrics are perfect for the kitchen area. They can diffuse harmful UV rays while still making the most out of natural light. Kitchens should be the bright and energetic center of the home. With beautiful window coverings, you'll have no trouble cementing them as such. Hunter Douglas, to name a major brand, has an increasable range of beautiful sheer and semi-sheer shades that offer excellent natural lighting options.
Privacy For The Bedroom
The bedroom is a splendid place to explore the possibilities of matching fabrics and light control! There, your Roman shades can work to enhance the flavors of the decor with matching textures and designs that allow for the introduction of soft light. Alternatively, with thick blackout fabric, they can completely block exterior light to allow for a good night's rest or a long morning in. Room darkening Roman shades work best when they're fitted outside of the window recess. This allows them to block off more light and ensure that none manages through from the sides.
Large Porch Windows
When you choose coverings for your porch windows, you likely have one major concern in mind, which is privacy. Because blackout Roman shades can have no problem taking care of that, you should also consider design for a moment. Opting for completely or partially blocking out light and visibility is completely up to the property owner, but to liven up the entrance hall, a fabric that diffuses the light instead of blocking it is recommended. It will allow you to keep the place spritely and inviting.
Find out more about the wide range of options available to you by contacting Newport Beach Blinds & Shades today and scheduling a free in-home consultation.