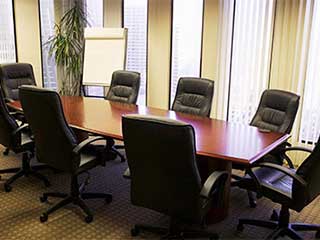 When you want the perfect window treatments for your property, vertical blinds are an excellent choice. These treatments are very versatile, and our custom-built vertical blinds are suitable for any number of different purposes. We offer high-quality vertical blinds for windows of all sizes and shapes. That means if you need vertical blinds for sliding glass doors we can provide the perfect custom-built product to suit your needs. If you're going to combine your vertical blinds with curtains we can also offer great quality at a low price. Start exploring our amazing range today by contacting Newport Beach Blinds & Shades for a free in-person consultation.
Our Affordable Vertical Blinds Collection
We pride ourselves on giving you the best range of blinds anywhere in the Newport Beach area. We do this by combining our amazing selection of designs with a full range of different materials and colors. Choose from options such as vinyl, wood, and aluminum vertical blinds, deciding on the perfect one for each window. Our personal design process gives you ultimate control over the end product, and we're always on hand to help. Our Newport Beach-based team is ready to provide answers to any questions you have. This means if you're looking for vertical blinds in your area, we're the team to turn to.
Cheap Deals On Vertical Window Blinds Installation
We do more than simply build custom vertical blinds. Our Newport Beach-based team of representatives also installs blinds quickly and cheaply. That makes us a true one-stop-shop for high-quality window coverings at a low price. We take you from start to finish, offering in-person consultations at your property and a highly professional design process that gives you total control. Our team works quickly to install all window coverings, including vertical blinds for office windows, so you won't have to wait long before you get all the benefits of your new investment. What could be better? Simply get in touch with us and we'll arrange a time for your free in-person consultation.
Wireless Motorized Vertical Blinds
Add some modern convenience to your property by choosing from our range of motorized vertical blinds. These are perfect for covering large windows, and it's easy to find motorized vertical blinds for patio doors. You can control these units easily, too, with a range of options that includes smartphone apps, remote controls, and wall panels. You'll be amazed at how cheap motorized vertical blinds can be, too. Get a free estimate today by getting in touch with our Newport Beach-based team.
Newport Beach-based Vertical Blinds Specialists
If you want to improve your property, don't settle for second best. We here at Newport Beach Blinds & Shades build our custom window blinds to the highest standards around. But we keep our prices at a low and fair level that makes them easy to afford. This means whether you're looking to install vertical blinds at your home or workplace, it's an easy decision to make. To find out more about our low prices for vertical blinds, schedule your free consultation in any home or office within the Newport Beach area.