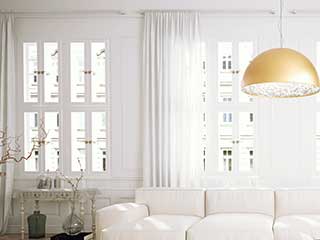 Window coverings are almost as ancient as windows themselves, and human history has had plenty of time to perfect them. Nowadays, window curtains and drapes of every description exist, and there are few household windows that lack them. If you live here in Newport Beach, CA, you're in a perfect position to get the best value on window hangings of all kinds. Newport Beach Blinds & Shades offers custom made drapes and curtains, and provides full installation services and free consultation!
Drapes Vs Curtains – Which Should You Get?
What are drapes and curtains, and what makes them distinct? Well, the main difference between these window coverings comes down to size and mass. Curtains are made from thin, airy fabrics. They're often semi-transparent, and relatively short in length. They're usually enough to just about cover the height of the entire window. Drapes are made of thicker, heavier fabric, and hang down to the floor (and often trail across it a bit). Drapes are richer and more obscuring, but also heavier and more difficult to adjust. While curtains can be easily slid back and forth along their rods, drapes often need to be pulled back and tied in an open position.
Custom Draperies And Curtains – Made to Measure
Custom ordering with Newport Beach Blinds & Shades gives you the chance to decide exactly how your new window coverings should look. Our craftsmen have access to all types of fabric and embellishment materials, and years of experience with commissioned curtain and drape designs. Our consultants will also help you choose the best options for any room in your home or workplace? Need bedroom curtains? Consider some obscuring blackout curtains in a soothing color. Something spectacular for a living or guest room? Some brightly colored drapes with lacy valences are sure to impress! For extra convenience and more reliable light control, consider motorized curtains that close or open on a timer or sensor. It's all on the menu!
Curtain And Drapery Rods
Whether you choose curtains or draperies, they'll to hang from something. Curtain and drapery rods are installed above the window, either set into the frame or into the ceiling over it or into the wall. Depending on the style of window hanging, the fabric may be attached to this rod by hooks, loops, or sewing. To improve the décor of the room, consider putting in valences to cover the rod with another layer of decorative cloth. Curtains and valences sets make for a comprehensive and classy addition to any well decorated room.
Motorized Window Treatments
That's right. In today's day and age, you don't have to manually shift the position of your blackout bedroom curtains or living room drapes. You can get motorized curtains installed and then use a remote control or even your smartphone to decide just how far to the left or to the right your window coverings should slide. Motorized drapes and curtains have become more and more prevalent in many Newport Beach residential and commercial properties, and it's no wonder. The convenience and utility they offer, not to mention the high-tech décor, makes them a fantastic choice for any business or home.
Get Your Discount Curtains And Draperies
Newport Beach Blinds & Shades is eager to hear from you. We're waiting for a chance to prove that our team is the best window covering makers this side of California. Contact us for a free estimate!