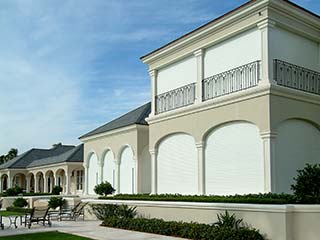 Compared to regular window treatments that work manually, Somfy blinds are a veritable leap in innovation. Not only do the remote control features make everything easier and faster, but the smart sensors and clean aesthetics make these custom made motorized blinds and shades to a level above on all fronts. Somfy blinds offer your Newport Beach residence or business space beautiful designs with new-age sophistication when it comes to functionality and utility. The use of Wi-Fi connectivity makes remote control handsets, smartphones, wall switches, and even voice command options viable.
Save On Energy With Smart Window Blinds
Besides looking great and working smoothly, Somfy smart blinds can also save you money over time. The special sensors for brightness and temperature can help automate the motorized blinds to preserve the desired indoor climate. You can have the blinds move according to entered parameters, helping you use natural lighting and keep warm or cold air at bay. This incorporation of smart sensors lets you lower energy costs by preventing constant work from the HVAC. Somfy motorized blinds work to reduce engagement and increase energy efficiency, positively affecting wear rate on things as well.
Motorized Somfy Shade Solutions Outdoors
When you have outdoor lounge spaces you want to protect from weather or sunlight, Somfy products can help there too. Utilize motorized awnings to add shade to decks or patios at corners and odd angles, extending the motorized covers whenever the sun shifts its position in the sky. Motorized pergola canopies and screens offer great solutions as well for outdoor shade structures. You can engage the remote control covers to protect you from every side whenever the need arises. Motorized shade solutions for Newport Beach patios, pool decks, and general outdoor areas offer excellent décor choices too. You can enjoy better coverage as well as a renewed aesthetic all at an affordable cost for custom made coverings.
Newport Beach Somfy Blinds & Shades – Free Quotes
When choosing custom made motorized shade solutions, whether for windows, glass doors, or outdoors, it's important to consult with professionals to ensure you get the best options for your needs and for your budget too, of course. As the leading local source for Somfy motorized shade solutions near Newport Beach, we give free estimates on all automatic coverings for windows and patios. Get a free consultation appointment booked today and ask our experts everything you need to know about motorized blinds, shutters, and shades!