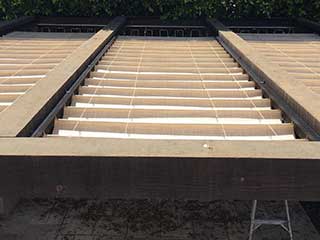 Once the grey of winter has gone into hibernation it's time to start enjoying the sunshine again and in Newport Beach that means spending time in the patio. The perfect patio should have enough space for you and your family to enjoy quality time and even entertain family and friends. Our team of consultants and installers at Newport Beach Blinds & Shades can help you turn your outdoor area into the best feature of your home with patio shades and deck awnings to add elegance to your home and protect you from the sun, wind, and rain.
Entertaining Made Easy
Backyard barbecues are a quintessential part of summer and in Newport Beach, you can hear the sizzle of the grill in any neighborhood almost daily. That means lots of outdoor dinners and late-night drinks. Wind and rain can send you running indoors without the right outdoor shades. You can raise them, or lower them as needed to make entertaining a whole lot simpler and more comfortable.
Motorized Patio Shades
Take it one step further and install motorized patio shades. You can control your patio shades without interrupting your little gathering or leaving your seat. Newport Beach Blinds & Shades has a great range of motorized outdoor shades to suit any patio and we offer this feature to any custom outdoor shades you choose. Go the extra mile with waterproof exterior shades and let the party go on, even when it starts to rain.
Solar Patio Shades
Newport Beach is famous for its blistering hot summers so unless you plan on locking yourself indoors for many long months, you should look at our range of sun shades for patios. These outdoor shades offer protection from the burning sun so you can spend your days outside, without the risk of sunburn. We also have waterproof outdoor shades if you have a pool area you'd like to cover.
Add A Personal Touch
If you're looking for something a little different in patio shades, look no further than Newport Beach Blinds & Shades. If we don't have exactly what you're looking for in sizes and styles, ask us about custom patio shades. Choose from our great range of styles and materials and we'll measure your patio area for perfectly fitted outdoor shades. This custom-fit is also available in all of our motorized exterior shades making life a little more convenient for you.
Let It Roll
Roll-up shades for outdoors are similar to Holland blinds indoors. You can pull them down or raise them up depending on the position of the sun and how much exposure you want. We also do custom outdoor roller shades for patios that are larger or smaller than average so you get the right fit.
Exterior Shades For Your Newport Beach Home
Home is all about living space but it doesn't need to be confined to the interior of your home. Outdoor spaces like patios add valuable space for you to relax or entertain, and with outdoor shades, you get the extra space you want, with the privacy and protection you need. We offer a huge selection of exterior shades for patios, decks, and gazebos. Choose the best shades for outdoors that give your front or backyard an improved look and utility.
Free Quotes Available
If you live in Newport Beach or the surrounding areas, call us and have one of our consultants come to your home for a free estimate. With the right advice, a fantastic range of choices and competitive prices, you'll have your patio shades fitted just in time for summer.