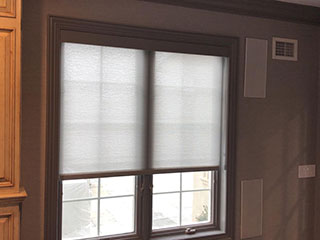 There's no need to struggle with manual shades and their frustrating cords for any longer! Motorized blinds and shades are the way of the future, and the sheer amount of advantages is nearly overwhelming. These childproof electric window coverings have so much convenience and innovation to offer, your smart home will feel like a genius with them.
Stylish and Easy To Use
Thanks to roller shades and other coverings being made out of fabric (usually), they're endlessly customizable! Want your new shades to complement the room's decor? Want to add motorized blackout shades to your bedroom to ensure no light gets in at all? Neither one's a problem. The ease of using a remote control to draw the shades is especially helpful for homes with many windows. It'll save you the trouble of having to open or close each one individually. Instead, you can use the wall-switch, a handset, or your own smartphone to adjust the blinds as you see fit.
Don't Get Up
Whether it's time to settle in and watch some TV, or you want to read by natural light and save some energy, you can adjust the shades from the comfort of your couch or bed. Your motorized shades will move according to your commands. Yes, even verbal commands. These automated window treatments can sync up with Alexa, Google Home, or some other virtual assistant. Smart home technology now allows for a range of automatic control methods that will make everything faster and more convenient.
Increase Your Home Security
As surprising as it may sound, having motorized shades installed in your home can actually help your stay secure! Because you can have your automatic window treatments open and close on timers, you will make it so your motorized shades give the impression that someone is home at all times. This can dissuade thieves from trying to break in. Why? Because criminals often case the place before deciding whether or not to venture inside. Even if you're off on vacation somewhere, your shades will still open and close regularly. Theives will be none the wiser! If you have a smart home system you could also control them from far away.
Each Shade Is a Custom Fit
No need to worry if you have a strangely shaped window or two. Newport Beach Blinds & Shades will carefully measure each and every window to ensure your new custom made shades are made to the correct size. After the installation process is done, you'll be able to enjoy your new motorized window coverings without worrying about light getting through from the sides.