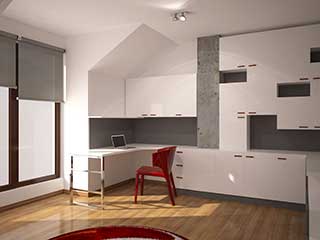 Roller shades are a broad category. Any type of flexible and sheet-like internal window treatment that opens by being rolled up onto a rod or spindle is technically a roller shade. They range from simple, unassuming, and utilitarian, to highly ornamental and intricately engineered.
Basic Roller Shades
A single sheet of cotton or synthetic fabric makes up the body of the simplest roller shade. In the right color, these shades can protect your privacy and keep out sunlight without calling too much attention to themselves, or contributing a quaint aesthetic to a lightly decorated room. Dark reds, pale blues, and neutral olive or mauve shades can bring the best out of a simple living space.
Ornamental Options
More colorful fabrics with embroidered or embellished surfaces and edges, or roller shades made of wood fiber, bamboo, or other more sensuous materials, can turn this simple design into a rich decoration. Ornamental roller shade designs are perfect for more decorated rooms, and for service industry businesses such as restaurants.
Solar and Cellular Shades
Roller shades made of advanced, selectively reflective polyesters and similar materials can shrug off the painful glare and harmful ultraviolet rays of the sun, while also admitting plenty of visible light and permitting a view through the window. Cellular, or honeycomb-patterned, roller shades provide the best thermoregulation of just about any type of window treatment.
Cord or Motor?
Cordless, motorized shades are more convenient to use as you can put them on a sensor or timer so that you'll never forget to adjust them throughout the day. The lack of a dangling cord also eliminates a choking or strangulation hazard for babies and toddlers. On the other hand, a hand-drawn cord has a classic appeal, as well as less bulk and noise.
Get Your Roller Shades Today
Whatever style of roller shade it is that appeals to you, Newport Beach & Shades can bring it right to your door and install it for you. Contact us today.